Product Description
18Ton 1850MM German Type Square Beam Rear Semi Trailer Axles for Sale
Product Parameters
Axle Type

 

Max  

Capacity

(T)

L2

Track

(mm)

 Brake ( mm )

 

Bearing

Spring Seat

Installation

 

Axle

 

L4Centre Distanceof Brake Chamber

( mm)

 

JS12FA1347D

12

1840

φ420x 180

33118

33213

≥980

150

423

JS13FA1348D

13

1840

φ 420x 200

33118

33213

 

≥900

150

360

JS14FA1348D

14

1840

φ 420x 200

32219

33215

≥900

150

356

JS16FA1348D

16

1850

φ 420x 200

322222

32314

≥900

150

360

JS18FA1348D

18

1850

Φ420x 200

322222

32314

≥900

150

380
Wheel Fixing

 

Total Length ( mm )

 

Recommended

Wheel

 

Weigth(Kg)

 

Stud

 

PCD(mm)

H(mm)

10-M22x 1.5ISO

335

280.8

~ 2144

7.5v-20

360

10-M22x 1.5ISO

335

280.8

~ 2144

7.5v-20

382

10-M22x 1.5ISO

335

280.8

~ 2198

8.0v-20

406

10-M22x 1.5ISO

335

280.8

~ 2265

8.5v-20

440

10-M22x 1.5ISO

335

280.8

~ 2265

8.5v-20

443
Detailed Photos
Application
Company Profile
ZheJiang CZPT Axle Manufacturing Co., Ltd., founded in 2000, is a professional manufacturer of trailer axle assemblies, semi-trailer suspension systems and correlative fittings in China. We are located in Quanpu Industry Zone which is the largest production base of trailers in China, in Xihu (West Lake) Dis., the famous scenic spot. We are 1 of specialized enterprises in the scientific research, design, production and sale, with more than 300 skilled employees and professional designers for different areas. We adopt the domestic and international technical standards in production, accurately grasp the information of the market demand and make quick and optimal designs. In this way, our axle, suspension and other fittings have the world-class technical quality through reasonable and advanced manufacture technologies. Our advanced processing technology, first-class production line and precision CNC machining equipment from home and abroad ensure the good quality of our semi-trailer axle assemblies, suspension systems and other correlative fittings. At the same time, our annual capacity for the export of American and German semi-trailer axle assemblies has achieved 60, 000 pieces and of suspension assemblies has achieved 50, 000 sets. We obtained the ISO9001: 2000 International Quality Management System Certification in 2003 and TS16949 Certification in 2007. "First-class product quality, the meticulous and thoughtful service, and CZPT cooperation" is the philosophy that we always cherish. We not only meet the domestic market demand, but also export our products to Southeast Asia, the Middle East, Latin America and other countries, enjoying a good reputation. We always regard quality as life, and client as God. We will create a brilliant tomorrow with your sincere cooperation and support.
Certifications
Packaging & Shipping
FAQ
1. What's your advantage?
 — We are manufacturer, we own professinal technology & quality control team; excellent team for foreign trade plus a rich expertise in trading.
2.Where your export to?
— Our export to America, Netherlands, Germany, Italy, Poland, Hungary, Russia, and other European, Asia and Africa countries.
3. Can you send me samples for testing?
  — Certainly!  We'd like to provide the samples free of charge, but for the freight, pls kindly bear it.
4.Can you supply OEM ?
  — Sure, we always supply customized seveices according to customers' drawing or samples.
5. How long do you finish a new product?
  — Usually 20~35days once all information confirmed.
Remark:
    Our payment terms
— 30% by T/T in advance, 70% by T/T before shipment
| | |
| --- | --- |
| After-sales Service: | 24 Hours Online |
| Condition: | New |
| Axle Number: | 1 |
| Application: | Trailer |
| Certification: | CE, ISO |
| Material: | Iron |
Samples:

US$ 520/Piece

1 Piece(Min.Order)

|
Request Sample
Customization:

Available

|

Customized Request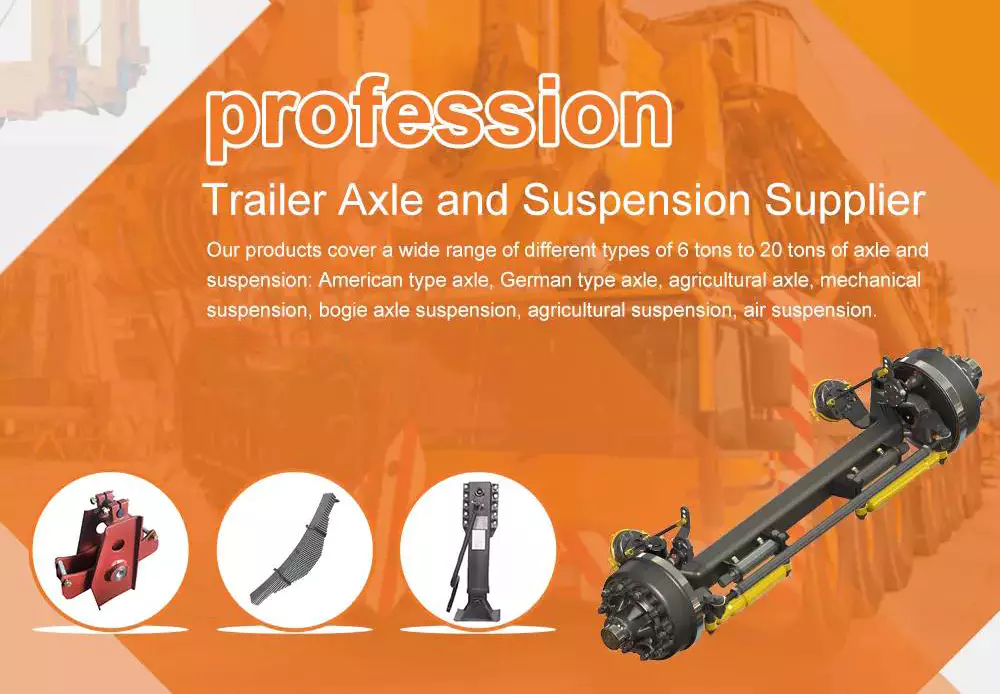 How to Repair an Axle
An axle is the central shaft of a gear or wheel. The axle can be fixed to the wheels or the vehicle itself and rotates along with them. The axle may include bearings. This article discusses the different types and their functions. It also covers how to repair an axle. In addition to its function, an axle may include mounting points and bearings.
Structure
An axle is a part of railway machinery that helps move trains. It is made up of a cylinder and a system of springs. The axle is positioned near the center of the train's wheels and is connected to the frame and wagon. Axle box bogies are used in economic trains.
Axles can be integral or detached, depending on the type of vehicle. An integral axle is the central part of the suspension system and supports the weight of the vehicle. A disengaged axle has two wheels on opposite sides. In a vehicle with independent suspension, the axles are matched together with independent suspension. Different types of axles are designed for different purposes, so it's important to understand which type of axle is used for the vehicle you're driving.
A conventional axle assembly consists of the hub assembly 10, brake disk 20, wheel bearing assembly 30, and knuckle 40. It also has a hub bolt 14. The wheel bearing assembly 30 is made up of the bearing 32, outer ring 36, and bearing connecting bolt 38. The wheel bearing assembly is connected to the hub using a hub.
The type of axle used in a vehicle is determined by the type of driving force that the axle is expected to deliver. Some vehicles use standard axles while others have custom-made axles to meet their specifications. This allows for better control over the wheels' speed and torque. These differences can greatly affect the performance of your vehicle.
Full-floating axles are most common in light, medium, and heavy-duty trucks. These axles can handle more weight than their semi-floating counterparts. They also prevent the wheel from coming off in case of axle failure. Full-floating axles are used in some Land-Rover vehicles and are used in American stock car racing. In addition, full-floating axles help maintain wheel alignment and handle side thrust and driving torque.
The structure of an axle assembly comprises an input shaft, a brake disk, and the hub. The input shaft is connected to the drive pulley.
Function
Axle springs are used to support the axle. The spring rate depends on the amount of load applied to the axle. The position of the axle can be determined by detecting signals produced by a position sensor. The sensor detects a change in distance between the axle body and the chassis. The spring rate is then adjusted to provide the required level of deflection.
The differential between the spring supported and unsprung axle suspension can lead to dangerous operating conditions. An operator may not always be aware of the occurrence of a switch from spring-supported to unsprung condition, and may overtax the vehicle as a result. Thus, the proper operation of axles depends on a thorough understanding of axle functions.
The Michigan DOT study used mechanistic models and laboratory studies to develop axle factors. These factors describe the relative damage caused by a single distress to a standard axle. They were used to adjust the AASHTO-based LEFs for single axle weights and to derive new LEFs independent of ESALs.
Models for estimating service lives are based on the work of Timm et al. for the FHWA. These models assume accurate axle loading spectra and a small number of tightly defined scenarios. This greatly simplifies the task of estimating LEFs and improves the accuracy of results.
The MEPDG version of the model supports the NAPCOM and PaveDAT models. They show a considerable variation in the effects of different axle weights on various metrics of pavement condition. This is because different axle weights can cause different results in different sections, if they are associated with two failure mechanisms.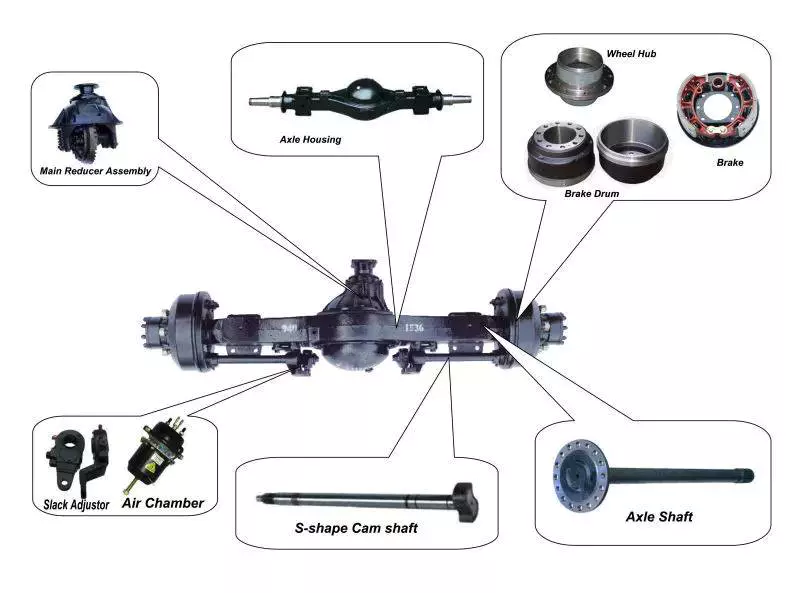 Types
There are many different types of axles, each with their own characteristics. The most common of these is the Ford 9-inch axle, which is found in most Blue Oval muscle cars and trucks. It is so popular that aftermarket companies even make versions for Chevy applications. This particular type of axle features a 3/8-inch square-drive fill plug and is reinforced with a Daytona-style pinion cartridge, which accommodates a stronger pinion head bearing and thicker inner ribbing.
Another type of axle is the rigid front axle, which uses leaf springs to provide suspension. These springs are fixed to spring seats on the axle beam. The axle beam and track rod are connected to each other using screws. The length and thickness of the axle tubes are important for the strength and performance of the axle.
The rear axle is responsible for transferring power to the driving wheels. The front axle, on the other hand, is responsible for processing road shocks and steering. The driving torque produces thrust in the wheels. This force must be transmitted to the chassis frame and body to move the vehicle. These are the most affordable types of axles, but they can also lead to problems.
While many axles are manufactured in standard formats, many of them are custom-made for a particular car, allowing for a more individualized look and performance. In addition to being custom-made for the vehicle, axle housing cases can be either a single unit or split like a banjo. The front opening of the axle housing is closed by a differential carrier, while the rear opening is covered by a spherical cover plate.
Different types of axles have different strengths and weaknesses. Typically, the weight of an axle should be proportionate to the vehicle's weight and the pressure it will exert on the road. When the axle weight is higher, a vehicle will not be as efficient, as it will use more fuel to move at the same speed. This can cut into profit margins.
Different types of axles can have various purposes, but one main function is to transfer power from the engine to the wheels. These axles need to be durable and able to withstand the weight of a vehicle, as well as withstand accelerated forces.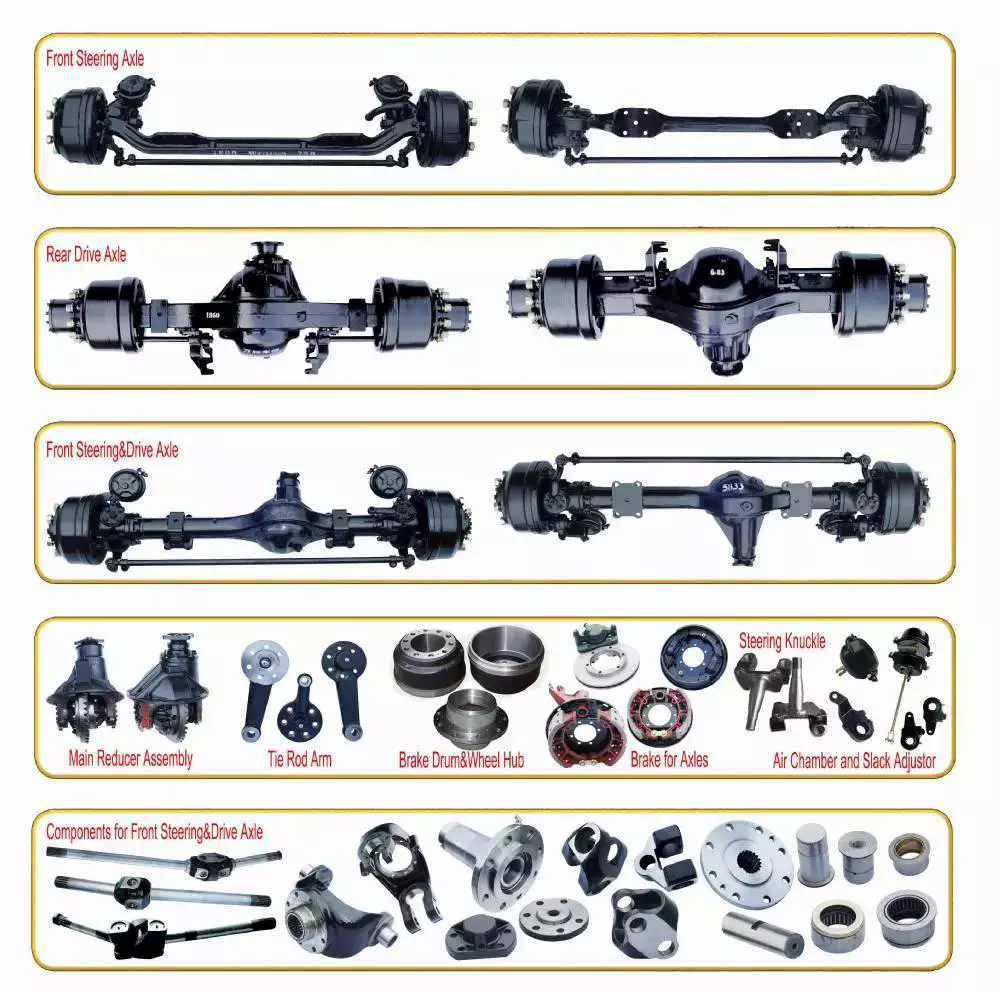 Repair
If you notice any signs of wear or damage to the axle on your vehicle, you may need to repair it. This type of repair will not only protect the wheels, but will also increase the overall performance of your car. A good repair job can help you enjoy smoother driving and better control of your tires. However, there are certain precautions you must take before starting the repair.
To fix an axle, a mechanic must first determine the cause of the problem. This can involve replacing worn or broken parts, replacing them with new ones, and adjusting the car's alignment. The mechanic will then tighten the fasteners and tires according to manufacturer specifications. Finally, the car will be road tested to ensure that everything is working properly.
A CV joint is also a common item to be replaced. The lubrication in these joints can become dirty, which causes them to wear out. A failing joint will make a clicking sound when it turns sharply. A failed joint may also affect the differential. This part of the car's drivetrain contains a set of gears that transfer the rotational power of the engine to the wheels. Over time, the gears can wear out, resulting in high labour and replacement costs.
If your car has bent axles, it is important to repair them as soon as possible. Even if the damage is slight, the problem can lead to additional damage to your car's wheels, CV joints, or other powertrain components. Thankfully, some insurance policies cover the cost of axle repair after an accident.
The average cost to repair an axle varies from about $450 to $900 before taxes. The cost depends on the size of the vehicle and the type of labor required. A rear axle repair can cost up to $700. In addition to labor fees, parts can cost as little as $50 to 70. The cost of the repair can also vary depending on the type of vehicle and the parts used.
If you notice bad vibrations in your vehicle, it's likely that the axle has been damaged. These vibrations can cause problems with the handling of your vehicle and your comfort while driving.




editor by CX 2023-06-01